Cookie preferences
This website uses cookies, which are necessary for the technical operation of the website and are always set. Other cookies, which increase the comfort when using this website, are used for direct advertising or to facilitate interaction with other websites and social networks, are only set with your consent.
BPM EB-Audio Kit I
Sennheiser MKH 416 P 48 U / Rycote Windschutzkorb-System Kit 4 / Sound Devices 302 inkl. Hinterbandkabel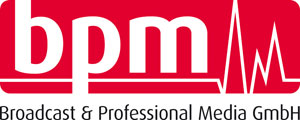 Order number:
BPM_EB-AUDIO-KIT-I
Open text field 1:

BPM_EB-AUDIO-KIT-I
Bestehend aus:
Sennheiser MKH 416 P 48 U
Das MKH 416 ist ein kurzes Richtrohrmikrofon. Gute Richteigenschaften bei geringen Abmessungen, hohe Konsonantenverständlichkeit und Rückkopplungssicherheit sind ideale Voraussetzungen für den universellen Einsatz bei Film, Funk und Fernsehen, insbesondere bei Außenreportagen.
Merkmale:
Erhöhte Richtwirkung durch Interferenzprinzip
Sehr niedriges Eigenrauschen
Hohe Empfindlichkeit
Symmetrisch erdfreier Ausgang ohne Übertrager
Robust und sehr klimafest
Ganzmetallgehäuse, mattschwarz
Rycote Windschutzkorb-System Kit 4
Bestehend aus:
Schwinghalterung Medium
Windschutzkorb 4 (330 mm)
Windjammer 4
Sound Devices 302 inkl. Hinterbandkabel
Portabler 3 in 2 EB-Mischer mit Lundahl-übertragersymmetrierten Eingängen und nahezu unklippbaren Opto-Limitern (maximaler Inputpegel 0 dBu@Mic)
Dimmbare, 3-farbige LED-Aussteuerung mit VU-, Peak- und Peak-Hold Modus, MS-Matrix für Kanal 1/2 & Monitor
Softwaremenü mit 2 User-Presets mit Konfigurationsmöglichkeiten für Ausgangspegel, Meterreferenz, Pegelton, Limiterthreshold, Eingangskopplung u.v.m.
3 Eingänge, sym. XLR, Mic/Line, stufenloser Gain 22-66 dB
12/48 V Ph & 12 V T , Lo-Cut 80/160 Hz, 6 dB/Okt., Pan L-C-R
Maximale Verstärkung In zu Out 75 dB
3 Kanal-und 2 Summenlimiter m. eigenen Peak/Lim-LEDs
20-30 KHz +/- 0.5 dB, EIN: -126 dBu, S/N 115 dB, THD+N 0,009 %
Output: XLR, el. sym., max. Pegel 18 dBu / 600 Ohm
sym. Tape-Out, regelbarer Tape-Return
Tape-Return als zusätzliche Eingänge auf Mix-Bus routbar
Mit anderen Sound Devices Mischern kaskadierbar
Stromversorgung: 3 x AA Mignonzelle, extern 4-pol Hirose 5-18 V
Abmessungen (BTH): 214 x 114 x 47 mm
Gewicht (ohne Batterien): 850 g
Passende Taschen und Tonangeln optional erhältlich!
Related links to "BPM EB-Audio Kit I"
With attractive financing terms, please contact our financing partner abc finance. Choose between different types of financing and specify your desired term, down payment and residual value. For individual calculations and questions please don't hesitate to contact us or our colleagues of abc media finance.
Why abcfinance media solutions?
abc finance media-solutions knows your industry, constantly monitor the market development, is familiar with the specific conditions and offers unique financial products for the media world. The financially Werhahn-Group works as collateral in the background - neutral to banks and manufacturer. For more than 30 years. Fast, flexible and individual.
What is the difference between leasing and hire-purchase?
If a lease the recognition and depreciation of the asset is by the lessor. The lease rate is immediately deductible (tax advantage) for the lessee. The sales tax is agreed to any payment due and is deductible as input tax. When the lease-purchase the hire-purchase object in contrast will be activated of the fixed assets and also written off from this. The lease rate is recorded as interest and repayment. The sales tax is to be the sum of all payments shall be made in the context of the contract of hire-purchaser due and must be paid at the beginning of the lease period.
What happens when sending my request?
You will be contacted personal within 24 hours of Alexander Mut from abc finance media-solutions. In the telephone call or personal conversation, you receive free advice on your request. If you wish, Mr. Mut will give you an not binding and individual offer and give you a quick check to secure funding. After receiving your written request to fund you can immediately pick up the goods. abc finance media-solutions pay the outstanding account with BPM. Here again are the steps in brief: 1. Your request through the BPM website. 2. Contact abc finance media-solutions a. Financing offer for you b. Financing commitment from abc c. Written request from you to abc 3. You receive the goods and abc finance media-solutions pay the outstanding account with BPM.