JVC KY-PZ100WE
HD PTZ camera with integrated autofocus, image stabilization and PoE+, white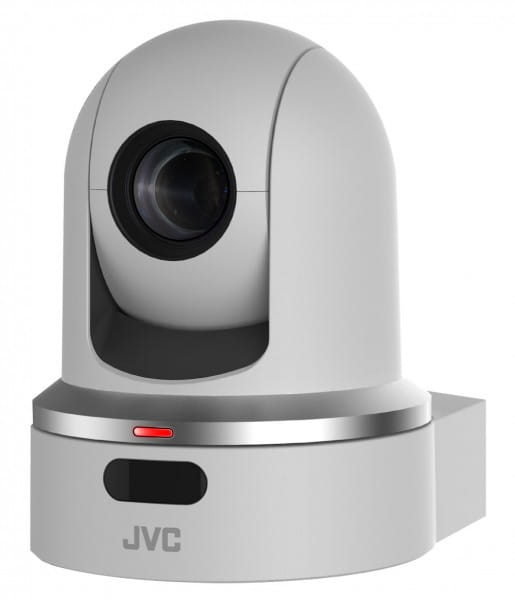 Order number:
JVC_KY-PZ100W
Open text field 1:

JVC_KY-PZ100W
Properties:
The KY-PZ100 is a robot-controlled pan, tilt and zoom video production camera. It is the first PTZ camera with JVC's IP communications engine to offer network connectivity over Wi-Fi, 4G-LTE (both with optional module) or wired LAN. It is designed for use as a stand-alone remote camera or as part of a multi-camera system in studio and field environments. In addition to its 3G-SDI and HDMI outputs, it can also stream 1080i / 60, 1080p, 720p and 360p video with 2-channel audio - all with minimal latency and forward error correction. The camera can be controlled via a web browser, the special RM-LP100 remote control panel or various standard protocol remote controls. The camera also features built-in HD recording at up to 50 Mbps on a micro SDHC / SDXC card with the ability to upload the recorded files to an external server.
Integrated autofocus and image stabilization
Direct drive motor for smooth, quiet and precise swivelling and tilting
Features PoE+ (Power over Ethernet)
High Sensitive mode
Remote controllable
Technical Specifications:
Image Sensor: 1/2.8" CMOS 2.13 MP
Focal Length: 4.3 - 129 mm
Aperture: F1.6 (wide) - F4.7 (telephoto)
Zoom Factor: 30x (optical), 12x (digital)
Horizontal FOV: 63.7° - 2.3°
Shutter Speed: 1/60 - 1/10000 (U model), 1/50 - 1/10000 (E model)
Gain: 0, 3, 6, 9, 12, 15, 18, 21, 24, 30, 36, 42, 48 dB
Minimum Illumination: 0.2 lx (High Sensitive mode off) / 0.02 lx (High Sensitive mode on)
White Balance: FAW, OnePush, 3200K, 5600K, Manual
Signal-to-Noise Ratio: 50 dB
Pan / Tilt Angle: ±175° (pan), -30° / +90° (tilt)
Preset Position: 100 points
Live Streaming Protocol: MPEG-2-TS / UDP, MPEG2-TS / TCP, RTSP / RTP, Zixi, RTMP
Recording Media: Micro SDHC / SDXC memory card (Class 6 / 10)
Video Codecs: MPEG-4 AVC / H.264 (Quick Time, HD H.264)
Supported Video Formats:1080p / 25 / 29.97 / 50 / 59.941080i / 50 / 59.94720p / 25 / 29.97 / 50 / 59.94
Supported Audio Formats: LPCM 2-ch, 48 kHz / 16 bit (MOV); µ-low 2-ch (5 Mb / s)
Data Links:
Input
1x Audio via 3.5 mm mini jack (balanced Mono / LINE / MIC with power)
1x RS-232C via Mini DIN 8-pin
1x Power supply DC
Output
1x 3G-SDI via BNC
1x HDMI
1x RS-232C via Mini DIN 8-pin
Others
1x Ethernet via RJ-45
1x RS-422 via RJ-45
1x USB (network connection)
General Product Information:
Dimensions (W x H x D): 148 x 199.5 x 172 mm
Weight: approx. 1.9 kg
Operating Temperature: 0° to +40° C (30 - 80 % air humidity, non-condensing)
Storage Temperature: -20° to +50° C (less than 85 % air humidity, non-condensing)
Operting Voltage: 12 V DC (power supply), 42 - 57 V DC (PoE+)
Power Consumption: 1.2 A (power supply), 0.4 A (PoE+)
Color: White
Included in Delivery:
1x Direct ceiling mount bracket
1x Screws
1x Wireless remote control
1x AC adapter
1x Operating Voltage
Related links to "JVC KY-PZ100WE"
With attractive financing terms, please contact our financing partner abc finance. Choose between different types of financing and specify your desired term, down payment and residual value. For individual calculations and questions please don't hesitate to contact us or our colleagues of abc media finance.
Why abcfinance media solutions?
abc finance media-solutions knows your industry, constantly monitor the market development, is familiar with the specific conditions and offers unique financial products for the media world. The financially Werhahn-Group works as collateral in the background - neutral to banks and manufacturer. For more than 30 years. Fast, flexible and individual.
What is the difference between leasing and hire-purchase?
If a lease the recognition and depreciation of the asset is by the lessor. The lease rate is immediately deductible (tax advantage) for the lessee. The sales tax is agreed to any payment due and is deductible as input tax. When the lease-purchase the hire-purchase object in contrast will be activated of the fixed assets and also written off from this. The lease rate is recorded as interest and repayment. The sales tax is to be the sum of all payments shall be made in the context of the contract of hire-purchaser due and must be paid at the beginning of the lease period.
What happens when sending my request?
You will be contacted personal within 24 hours of Alexander Mut from abc finance media-solutions. In the telephone call or personal conversation, you receive free advice on your request. If you wish, Mr. Mut will give you an not binding and individual offer and give you a quick check to secure funding. After receiving your written request to fund you can immediately pick up the goods. abc finance media-solutions pay the outstanding account with BPM. Here again are the steps in brief: 1. Your request through the BPM website. 2. Contact abc finance media-solutions a. Financing offer for you b. Financing commitment from abc c. Written request from you to abc 3. You receive the goods and abc finance media-solutions pay the outstanding account with BPM.