Vinten Head Vector 950 Flat base
Flat base head, 16.0 -120.0 kg (35.0 - 264.5 lb) payload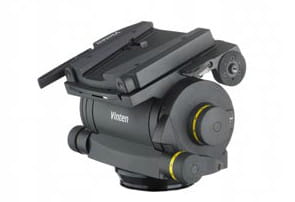 Order number:
VINTEN_V3996-0001
Open text field 1:

VINTEN_V3996-0001
Features
The Vector 950 offers an increased capacity of up to 120 kg and at this payload provides ±60° of perfectly balanced tilt, allowing the safe control of today's long OB lenses.
The compact and durable Vector 950 head incorporates a wealth of features. Set-up is aided through the inclusion of a tilt deadlock, Quickfix groove in the base, retractable carry handle and illuminated controls, as well as an LCD display that offers a 24 hour clock, stopwatch and counterbalance readout that can be set for known payloads. The pan and tilt brakes are positioned at the rear of the head, making them easily accessible, and the camera plate can be simply adjusted forward and back using a retractable, ergonomically designed adjuster.
The Vector 950 features TF Drag, allowing outstanding whip pan control and an extensive operational temperature range from-40°C through to +60°C. The high output tilt drag modules also provide superb holding force and enhanced control in windy conditions. Combining these characteristics with infinite Perfect Balance adjustment ensures that the effort needed to control the effect of a heavy, moving camera payload remains constant and predictable, eliminating a major distraction during filming.
Infinitely adjustable Perfect Balance system
TF Drag offers extensive operational temperature range and enhanced control
Illuminated controls for low-light situations
Counterbalance readout for repeatable camera set-up
Up to ±90° of tilt
Technical Specifications
Height: 24.8 cm / 9.8 "
Length: 22.5 cm / 8.9 "
Width: 34.2 cm / 13.5 "
Weight: 16.6 kg / 36.6 lbs
Capacity Range: 16 to 120 kg / 35 to 264.5 lbs
Tilt Range: ±90° @ 60 kg / 132.3 lbs; ±60° @ 120 kg / 264.5 lbs
Platform Adjustment: +5.5 to -12.5 cm / +2.2 to -4.9 "
Pan Bar: Single telescopic
Camera Fixing: Wedge adaptor
Levelling Bubble: Illuminated
Drag Knobs: Backlit and calibrated
Counterbalance: Fully variable with digital readout
Base Fixing: 4-bolt flat with Quickfix groove
Colour: Black
Related links to "Vinten Head Vector 950 Flat base"
With attractive financing terms, please contact our financing partner abc finance. Choose between different types of financing and specify your desired term, down payment and residual value. For individual calculations and questions please don't hesitate to contact us or our colleagues of abc media finance.
Why abcfinance media solutions?
abc finance media-solutions knows your industry, constantly monitor the market development, is familiar with the specific conditions and offers unique financial products for the media world. The financially Werhahn-Group works as collateral in the background - neutral to banks and manufacturer. For more than 30 years. Fast, flexible and individual.
What is the difference between leasing and hire-purchase?
If a lease the recognition and depreciation of the asset is by the lessor. The lease rate is immediately deductible (tax advantage) for the lessee. The sales tax is agreed to any payment due and is deductible as input tax. When the lease-purchase the hire-purchase object in contrast will be activated of the fixed assets and also written off from this. The lease rate is recorded as interest and repayment. The sales tax is to be the sum of all payments shall be made in the context of the contract of hire-purchaser due and must be paid at the beginning of the lease period.
What happens when sending my request?
You will be contacted personal within 24 hours of Alexander Mut from abc finance media-solutions. In the telephone call or personal conversation, you receive free advice on your request. If you wish, Mr. Mut will give you an not binding and individual offer and give you a quick check to secure funding. After receiving your written request to fund you can immediately pick up the goods. abc finance media-solutions pay the outstanding account with BPM. Here again are the steps in brief: 1. Your request through the BPM website. 2. Contact abc finance media-solutions a. Financing offer for you b. Financing commitment from abc c. Written request from you to abc 3. You receive the goods and abc finance media-solutions pay the outstanding account with BPM.