OConnor 60L Carbon Fiber Tripod
2-stage, 150 mm bowl, carbon fiber tripod, 209 lb payload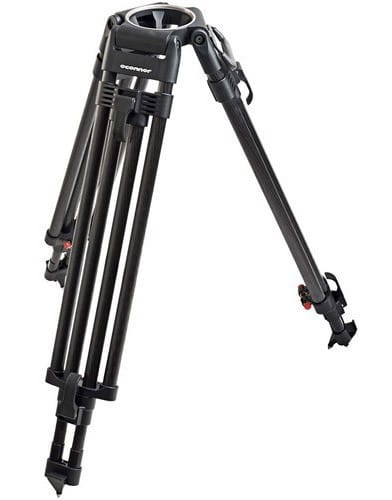 Order number:
OCONNOR_C1255-0001
1-2 weeks
Open text field 1:

OCONNOR_C1255-0001
Features
The OConnor 60L carbon fiber tripod offers a superior lightweight support option for the OConnor Ultimate 2065 and 2575D fluid heads. The tripod combines the benefits of new-age materials with precision engineering to provide a support system that is lighter weight with fast setup features, yet solid enough to carry large film camera configurations.
The 60L weighs just 9 lbs (4.1 kg) and has a double extension design that is safe and stable carrying payloads of up to 209 lbs (95 kg), even at its maximum height of 60.6" (154 cm). Despite its generous height range it folds down to a mere 29.9" (76 cm).
The smart quick clamping system includes visible tripod clamp lockdown and this is coupled with a pre-set mid-level spreader to ensure secure, easy deployment in every situation. Removable rubber feet expose spikes for optimal traction and payload safety on a variety of surfaces.
OConnor's 60L is a lighter weight, speedy setup tripod with a 150 mm bowl, making it the ideal choice for professional cinematographers who require a flexible shooting package for larger cameras.
Model 60L
Type 2-Stage Tripod
Material Carbon Fiber
Capacity 209 lbs. (95 kg)
Weight 9 lbs (4.1 kg) tripod only
Maximum Height 60.6 in. (154 cm)
Minimum Height 22.8 in. (58 cm)
Top Casting 150 mm Bowl
Collapsed Length 29.9 in. (76 cm)
Includes Mid-Leg spreader, Set of 3 Rubber feet
Related links to "OConnor 60L Carbon Fiber Tripod"
With attractive financing terms, please contact our financing partner abc finance. Choose between different types of financing and specify your desired term, down payment and residual value. For individual calculations and questions please don't hesitate to contact us or our colleagues of abc media finance.
Why abcfinance media solutions?
abc finance media-solutions knows your industry, constantly monitor the market development, is familiar with the specific conditions and offers unique financial products for the media world. The financially Werhahn-Group works as collateral in the background - neutral to banks and manufacturer. For more than 30 years. Fast, flexible and individual.
What is the difference between leasing and hire-purchase?
If a lease the recognition and depreciation of the asset is by the lessor. The lease rate is immediately deductible (tax advantage) for the lessee. The sales tax is agreed to any payment due and is deductible as input tax. When the lease-purchase the hire-purchase object in contrast will be activated of the fixed assets and also written off from this. The lease rate is recorded as interest and repayment. The sales tax is to be the sum of all payments shall be made in the context of the contract of hire-purchaser due and must be paid at the beginning of the lease period.
What happens when sending my request?
You will be contacted personal within 24 hours of Alexander Mut from abc finance media-solutions. In the telephone call or personal conversation, you receive free advice on your request. If you wish, Mr. Mut will give you an not binding and individual offer and give you a quick check to secure funding. After receiving your written request to fund you can immediately pick up the goods. abc finance media-solutions pay the outstanding account with BPM. Here again are the steps in brief: 1. Your request through the BPM website. 2. Contact abc finance media-solutions a. Financing offer for you b. Financing commitment from abc c. Written request from you to abc 3. You receive the goods and abc finance media-solutions pay the outstanding account with BPM.