Zacuto Z-Finder Pro 3x
Z-Finder Pro 3x Sucher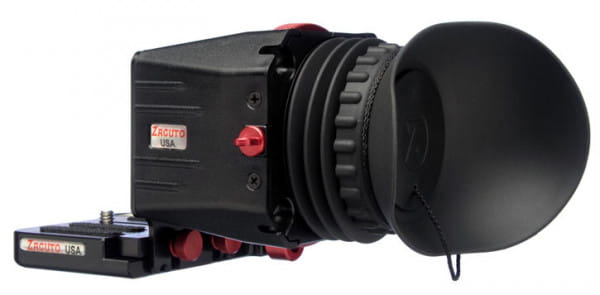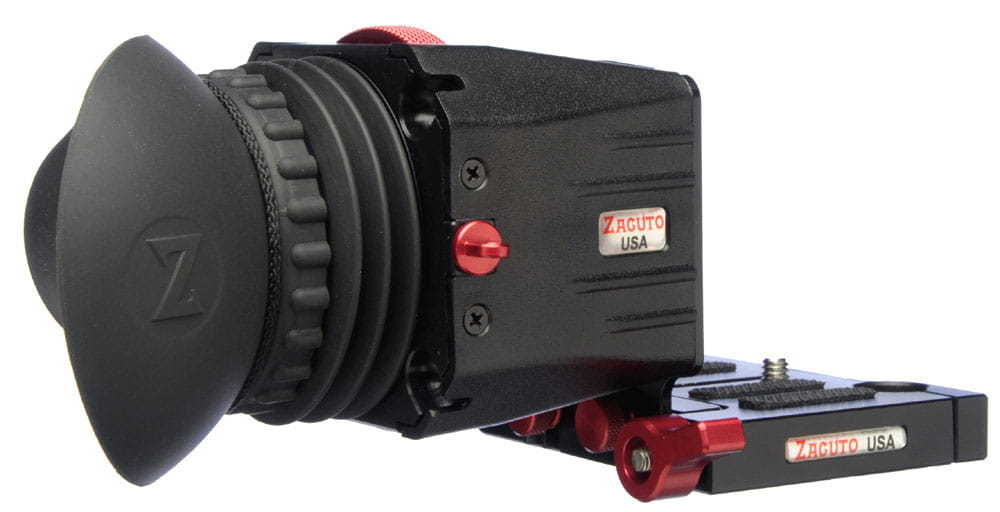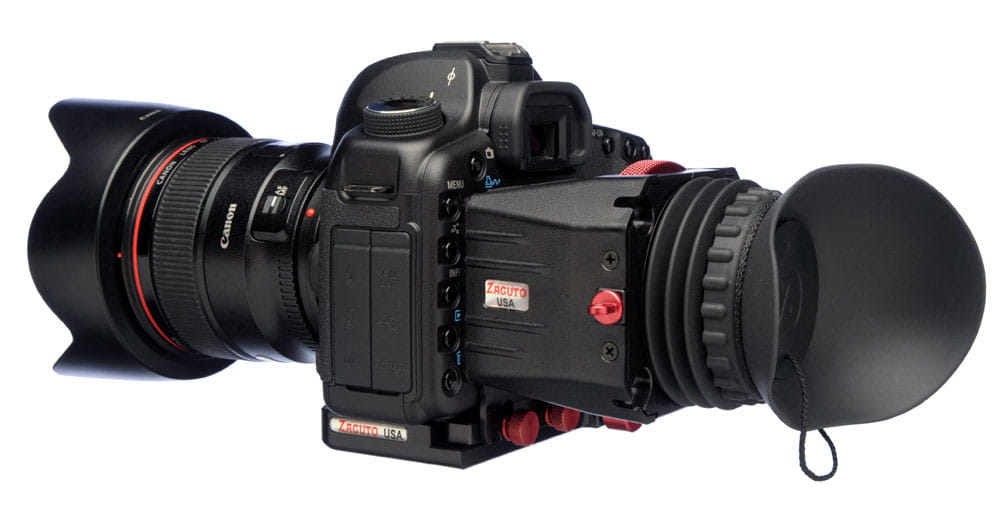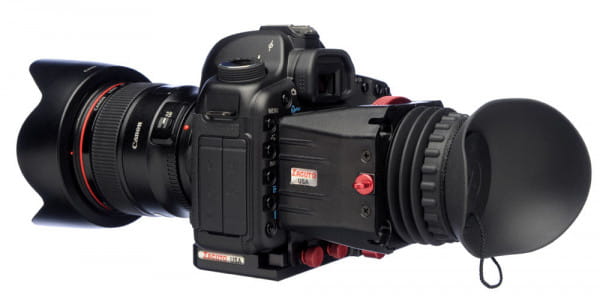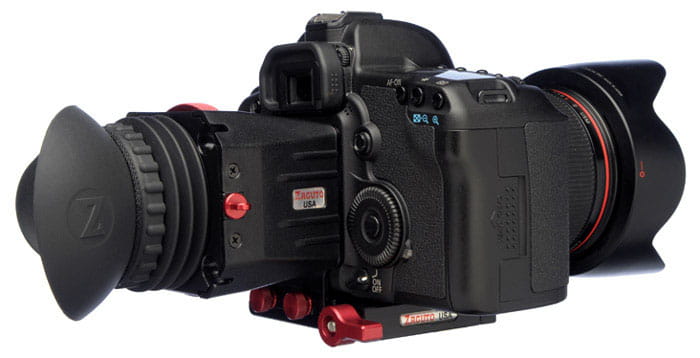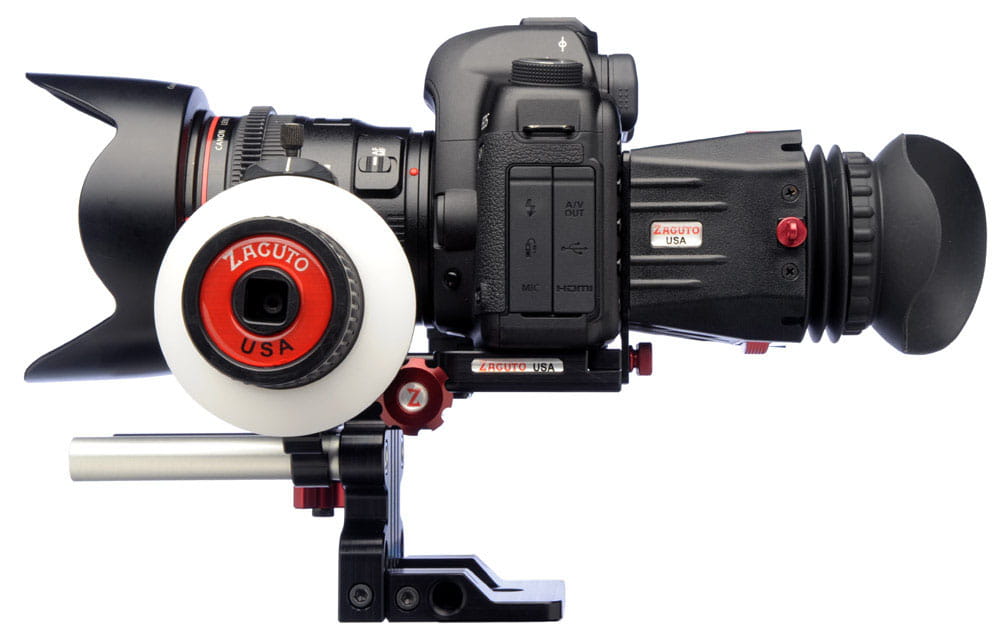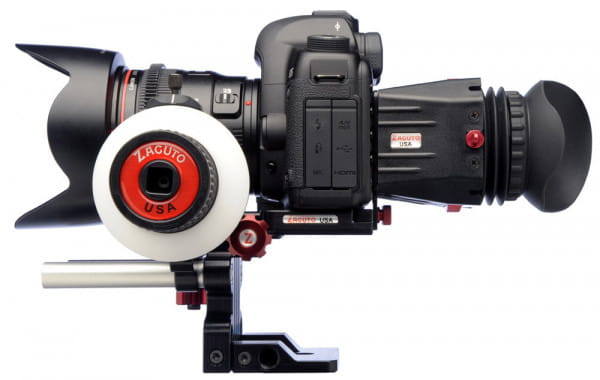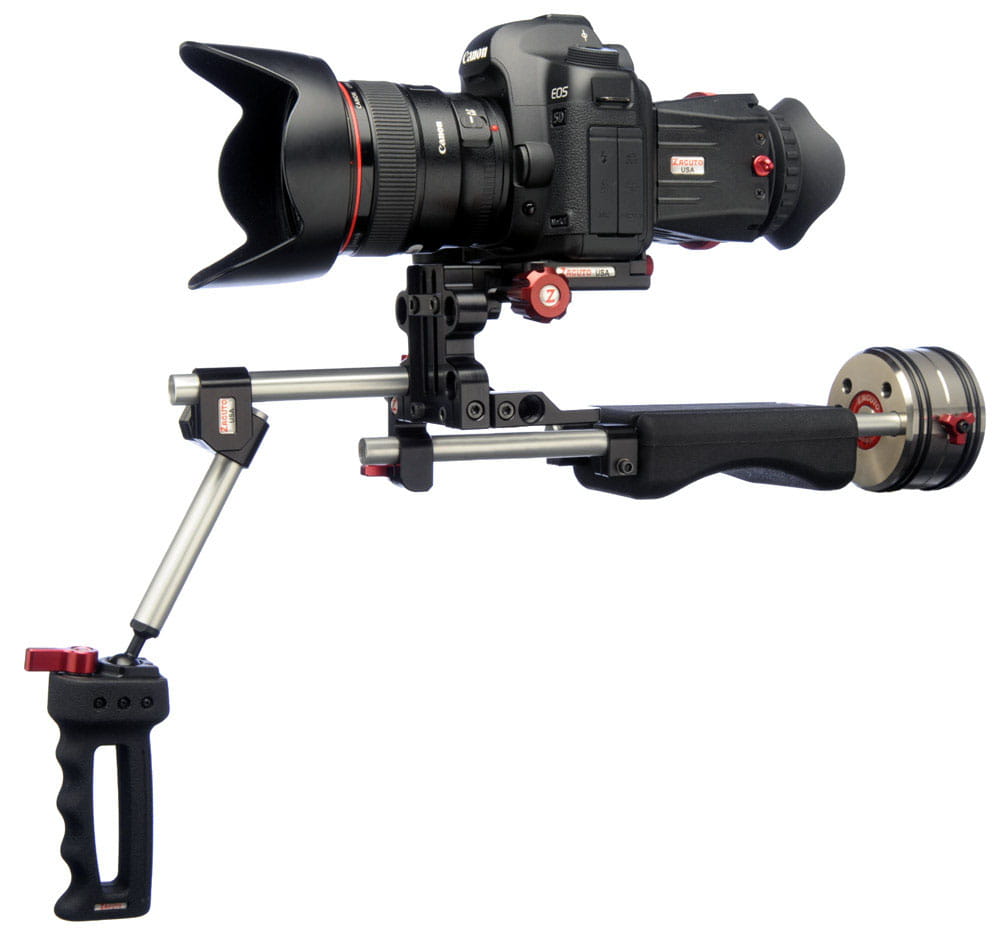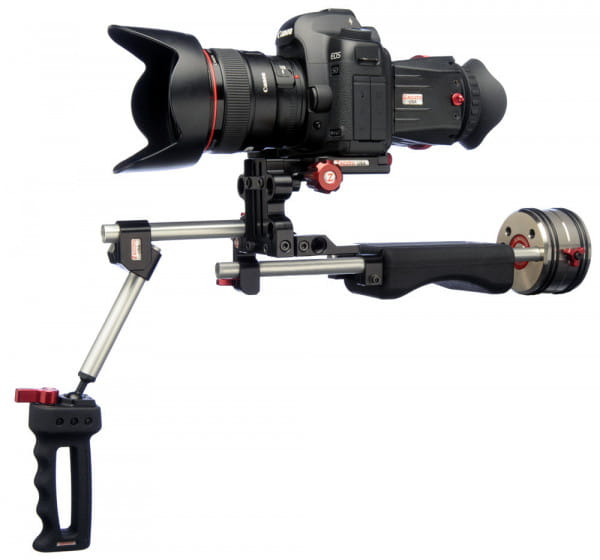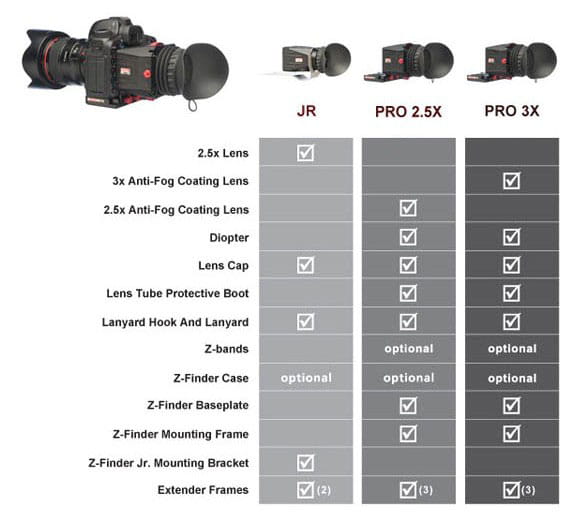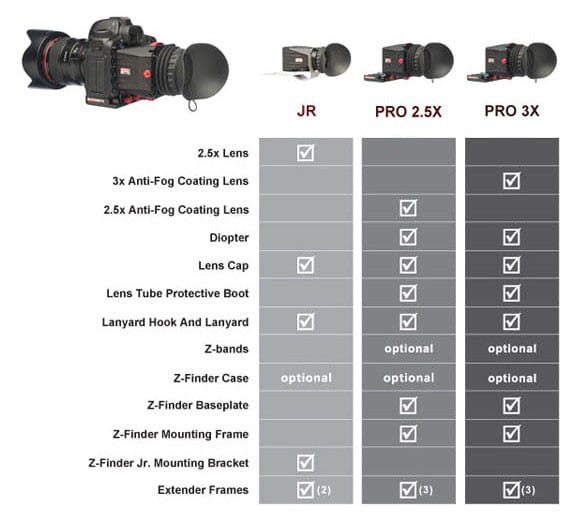 Mit dem Aufruf des Videos erklären
Sie sich einverstanden, dass Ihre Daten an YouTube
übermittelt werden und dass Sie die Datenschutzerklärung
gelesen haben.
Mit dem Aufruf des Videos erklären
Sie sich einverstanden, dass Ihre Daten an YouTube
übermittelt werden und dass Sie die Datenschutzerklärung
gelesen haben.

Artikel-Nr.:
ZACU_Z-FIND-PRO3

auf Lager, bis zu 3 Werktage
Freitextfeld 1:

ZACU_Z-FIND-PRO3
Z-Finder Pro 3x enthält:
3 Zwischenrahmen
Gorilla Platte mit Aufsteckrahmen für DSLR Kameras ohne Batteriegriff und 3" Display
Tragegurt für Sucherlupe
Abdeckkappe und Schutztasche
3x Linse mit 2 Anti-Fog-Schutzscheiben
One installed and one additional Anti-Fog disc. This also acts as a lens protector and is expendable. We also have anti-fog wipes.
The Z-Finder Pro 3x is an optical viewfinder that allows DSLR cameras to have the correct form factor for video. This Z-finder will magnify the LCD screen by 3x and has a diopter for specific focus tuning. It cuts out any extraneous light and offers an initial point of stability by pressing your eye against our comfy, large eyecup. The Z-finder Pro 3x comes with a 40mm diameter Zacuto optical designed lens, anti-fog coated protective covers, and a mounting system designed for 3" LCD screens. (A 3.2" version is available.) The diopter allows you to dial in the focus to match your eye. If you need extra focal points you can use the included Z-Finder Extender Frames. These are semi-permanent stackable frames that attach to the body of the Z-Finder Pro and extend the Z-Finder glass further away from the LCD screen for people who are farsighted.
The 3x magnification is recommended in particular for users who are farsighted and may have problems seeing up close. If you wear strong reading glasses this is the model for you! The Z-Finder Pro 3x has a diopter range of -2.75 and up (unlimited with extender frames). Users with 20/20 vision can use either magnification. It is a personal preference. Your camera model is irrelevant when choosing between the 2.5x and 3x magnifications. If you are particularly nearsighted and have problems seeing distances or are just looking for a smaller magnification we recommend the Z-Finder Pro 2.5x. Far sighted users can still use the 2.5x model with the addition of the included Extender Frames.
The Z-Finder Pro attaches to your camera with the included Gorilla Plate V2 and Z-Finder 3" Mounting Frame for Small DSLR Bodies. (The Z-Finder Mounting Frame can also be attached to our DSLR Baseplate. ) The Gorilla Plate V2 attaches to the bottom of your camera using a 1/4 20" screw and has 1/4 20" screw holes underneath to attach a tripod plate. The metal Z-Finder Mounting Frame attaches to the Gorilla Plate V2 using the provided red thumb screws. The Z-finder itself pops on and off the Z-finder Mounting frame. No magnets or glue are used. The metal Z-Finder Mounting Frame is backed with rubber to prevent scratching or slippage. If you want to remove the entire mounting frame from your camera, you can do so by loosening the thumb screws and pulling up on the metal mounting frame to release.
PLEASE NOTE:
1.All Z-finder bodies are the same size and can fit on any of our frames. The Z-Finder Pro 3x comes standard with a 3" Z-Finder Mounting Frame for Small DSLR Bodies. That will fit a standard small body DSLR with a 3" screen like the Canon 5D MII, 7D, T3i or the Nikon D3000 or D5100. Any other frames need to be purchased in addition to the Z-Finder. You can get a la carte frames for tall cameras, battery grips, 3.2" LCD screens, and our adhesive frame as well as a Z-finder Pro 3x packaged with a mounting frame for small body DSLRs with 3.2" LCD screens (Canon 5D MIII, Nikon D800).
2. The tapped holes on the bottom of the Gorilla Plate V2 are offset from the center of the lens for use with some of our equipment. This is only a concern if you are using the Gorilla plate with other rigs that do not have side to side movement and need the matte box in line with the lens/mounting screw hole. To compensate for this issue, you can either use an adhesive mounting frame to attach the Z-finder or add a Gorilla Plate Adapter to your plate. The Gorilla Plate Adapter centers the tripod holes on the bottom of the gorilla plate. Please note that this adapter does come with a longer 1/4 20" screw that will replace the smaller 1/4 20" screw that comes with the Gorilla Plate. You will need to take your screw out and use the longer one provided with the adapter to attach your camera to the plate.
3.The Gorilla Baseplate covers the battery compartment door on the Canon T2i/3i/4i Camera. If that is a problem, we suggest using the adhesive frame.
4.In order for the Gorilla Plate and mounting frame to correctly align with the LCD screen the plate needs to be directly underneath your camera. This means it cannot be used in combination with L brackets like Really Right Stuff or camera specific contour plates like Arca Swiss. You can use an adhesive frame on your camera with our Z-finder and continue using your camera specific plates as usual.
5. Panasonic LUMIX Notes: A Z-Finder packaged with a mounting system for the GH3 is already available.
WARNING: The Z-finder is a magnifier and as such will magnify the sun and could damage the LCD screen if the sun is allowed to shine directly through the Z-finder lens. This is not a defect but a physical property. Caution should be taken to avoid direct sun light. Proper use of the included lens cap and sun mask will dramatically reduce but not eliminate risk.
Weiterführende Links zu "Zacuto Z-Finder Pro 3x"