Canon KJ20x8.2B IRSD
Mobile HD telephoto lens with 8.2 mm wide-angle, integrated 2x extender and 2/3" mount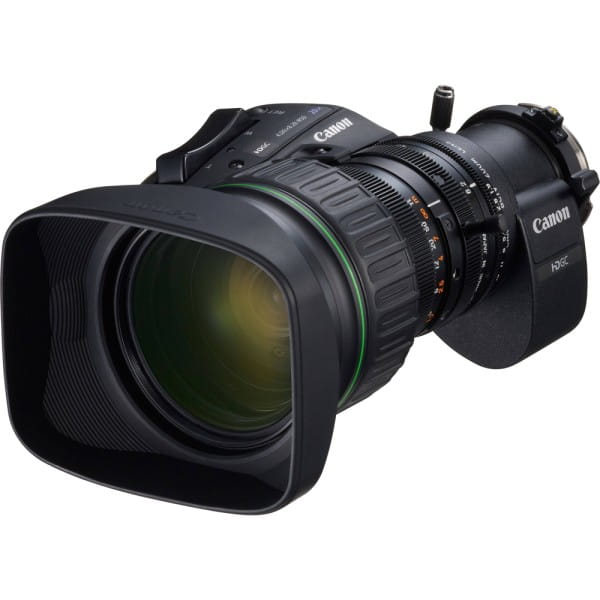 Order number:
CAN_KJ20X8.2-IRSD
Open text field 1:

CAN_KJ20X8.2-IRSD
Properties:
The KJ20x8.2B IRSD is a 2/3" mobile-optimized HD telephoto lens, designed specifically for affordable image capture systems, and is used by a wide range of applications and users ranging from electronic reporting to professional Freelance HD. The lens minimizes axial and lateral chromatic aberrations, coma aberrations, and geometric distortions. The effective use of new optical materials and multiple coatings reduces stray light and ghosting often caused by a strong light source such as the sun or car headlights at night.
8.2-mm wide-angle
Integrated 2x extender
Extremely high zooming speed (full range in 1.0 seconds)
Extended drive unit
Ecological, robust and ergonomic construction
Technical Specifications:
Zoom Ratio: 20x
Built-in Extender: 1.0x / 2.0x
Range of Focal Length: 8.2 - 164 mm / 16.4 - 328 mm
Max. Relative Aperture: 1:1.9 at 8.2 - 115.4 mm; 1:2.7 at 164 mm / 1:3.8 at 16.4 - 230.8 mm; 1:5.4 at 328 mm
Angular Field of View at 16:9: 60.7° x 36.5° at 8.2 mm; 3.4° x 1.9° at 164 mm / 32.6° x 18.7° at 16.4 mm; 1.7° x 0.9° at 328 mm
Angular Field of View at 4:3: 56.4° x 43.8° at 8.2 mm; 3.1° x 2.3° at 164 mm / 30° x 22.8° at 16.4 mm; 1.5° x 1.2° at 328 mm
Minimum Object Distance (M.O.D): 0.9 m (10 mm with Macro)
Object Dimensions at M.O.D (16:9): 98.2 x 55.2 cm at 8.2 mm; 5 x 2.8 cm at 164 mm / 49.1 x 27.6 cm at 16.4 mm; 2.5 x 1.4 cm at 328 mm
Object Dimensions at M.O.D (4:3): 90.1 x 67.6 at 8.2 mm; 4.6 x 3.5 cm at 164 mm / 45.1 x 33.8 cm at 16.4 mm; 2.3 x 1.8 cm at 328 mm
General Product Information:
Dimensions (W x H x D): 163.3 x 103 x 208 mm
Weight: 1.42 kg
Related links to "Canon KJ20x8.2B IRSD"
With attractive financing terms, please contact our financing partner abc finance. Choose between different types of financing and specify your desired term, down payment and residual value. For individual calculations and questions please don't hesitate to contact us or our colleagues of abc media finance.
Why abcfinance media solutions?
abc finance media-solutions knows your industry, constantly monitor the market development, is familiar with the specific conditions and offers unique financial products for the media world. The financially Werhahn-Group works as collateral in the background - neutral to banks and manufacturer. For more than 30 years. Fast, flexible and individual.
What is the difference between leasing and hire-purchase?
If a lease the recognition and depreciation of the asset is by the lessor. The lease rate is immediately deductible (tax advantage) for the lessee. The sales tax is agreed to any payment due and is deductible as input tax. When the lease-purchase the hire-purchase object in contrast will be activated of the fixed assets and also written off from this. The lease rate is recorded as interest and repayment. The sales tax is to be the sum of all payments shall be made in the context of the contract of hire-purchaser due and must be paid at the beginning of the lease period.
What happens when sending my request?
You will be contacted personal within 24 hours of Alexander Mut from abc finance media-solutions. In the telephone call or personal conversation, you receive free advice on your request. If you wish, Mr. Mut will give you an not binding and individual offer and give you a quick check to secure funding. After receiving your written request to fund you can immediately pick up the goods. abc finance media-solutions pay the outstanding account with BPM. Here again are the steps in brief: 1. Your request through the BPM website. 2. Contact abc finance media-solutions a. Financing offer for you b. Financing commitment from abc c. Written request from you to abc 3. You receive the goods and abc finance media-solutions pay the outstanding account with BPM.