Zeiss CZ.2 70-200/T2.9 F- metric
Compact Zoom CZ.2 with an interchangeable mount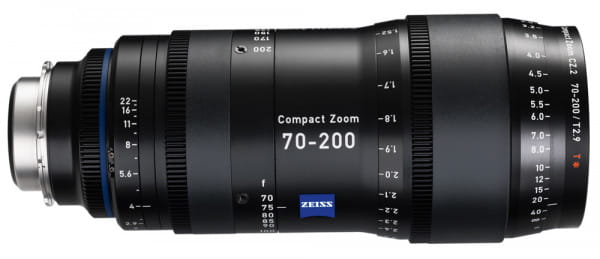 Mit dem Aufruf des Videos erklären
Sie sich einverstanden, dass Ihre Daten an YouTube
übermittelt werden und dass Sie die Datenschutzerklärung
gelesen haben.
Order number:
ZEISS_1984-034
1-2 weeks
Open text field 1:

ZEISS_1984-034
Features
The Compact Zoom CZ.2 70-200/T2.9 is first in a line of zoom lenses designed for the owner- operator from Carl Zeiss that allows them to be used with a wide variety of current and future cameras, because of their compact design, full- frame coverage and interchangeable mounts.
The Compact Zoom CZ.2 lens is a perfect complement to the smaller, lighter HD video and cine cameras introduced in the last year. Especially when used with Steadicam systems, the weight of the lens and camera becomes a critical factor. Weighing only 2.8kg (6.2lbs), it opens up new creative opportunities for action sequences by allowing the camera to be used hand-held for a greater range of motion.
The Compact Zoom CZ.2 lenses feature an 18-blade aperture, which creates a round iris opening and a natural, out of focus rendition. As with the rest of the Compact Prime CP.2 family, the cine-style housing with gearing allows the attachment of any standard follow-focus system. By using the interchangeable mounts for PL, EF, F, MFT and E, the Compact Zoom CZ.2 lens can be easily adapted to numerous camera systems and ensures compatibility with future cameras as technology changes. The Carl Zeiss T* anti- reflection coating ensures the maximum contrast and color rendition by minimizing stray light and ghosting within the lens. The Compact Zoom CZ.2 delivers flare-free results and it has no focus shift over the whole zoom range.
The new Compact Zoom CZ.2 lenses are as versatile as they are powerful and incorporate features never seen before on lenses of this kind. They are handy, compact, ready for 4k and even offer full-frame coverage. With their zoom lengths of 28 – 80 and 70 – 200, they give you a wide range of creative options.
Their compact size and light weight make them the ideal companions for even the most ambitious applications, including handheld, Steadicam and projects in confined spaces. And thanks to their robust, cine-style housing (which also allows for the use of a follow-focus system), their full-frame coverage and interchangeabale mounts, they will be reliable partners for years to come.
Interchangeable mount
Full-frame coverage (36 x 24 mm)
No focus shift over the zoom range
Robust cine-style housing
Round iris
Great flare suppression
Calibrated focus scales
Technische Daten
Aperture range: T 2.9 to T 22
Focal range: 70–200 mm
Close focus distance : 1.52 m / 5"
Full-Frame: 10–29°
APS-H: 9–24°
Super 35: 7–20°
Normal 35: 6–18°
APS-C: 6–18°
MFT: 5–14°
Length: 250 mm / 9.84"
Front diameter: 95 mm / 3.7"
Weight:2.8 kg / 6.2 lbs
Related links to "Zeiss CZ.2 70-200/T2.9 F- metric"
With attractive financing terms, please contact our financing partner abc finance. Choose between different types of financing and specify your desired term, down payment and residual value. For individual calculations and questions please don't hesitate to contact us or our colleagues of abc media finance.
Why abcfinance media solutions?
abc finance media-solutions knows your industry, constantly monitor the market development, is familiar with the specific conditions and offers unique financial products for the media world. The financially Werhahn-Group works as collateral in the background - neutral to banks and manufacturer. For more than 30 years. Fast, flexible and individual.
What is the difference between leasing and hire-purchase?
If a lease the recognition and depreciation of the asset is by the lessor. The lease rate is immediately deductible (tax advantage) for the lessee. The sales tax is agreed to any payment due and is deductible as input tax. When the lease-purchase the hire-purchase object in contrast will be activated of the fixed assets and also written off from this. The lease rate is recorded as interest and repayment. The sales tax is to be the sum of all payments shall be made in the context of the contract of hire-purchaser due and must be paid at the beginning of the lease period.
What happens when sending my request?
You will be contacted personal within 24 hours of Alexander Mut from abc finance media-solutions. In the telephone call or personal conversation, you receive free advice on your request. If you wish, Mr. Mut will give you an not binding and individual offer and give you a quick check to secure funding. After receiving your written request to fund you can immediately pick up the goods. abc finance media-solutions pay the outstanding account with BPM. Here again are the steps in brief: 1. Your request through the BPM website. 2. Contact abc finance media-solutions a. Financing offer for you b. Financing commitment from abc c. Written request from you to abc 3. You receive the goods and abc finance media-solutions pay the outstanding account with BPM.